CHECK OUT OUR CURRENT SPECIALS!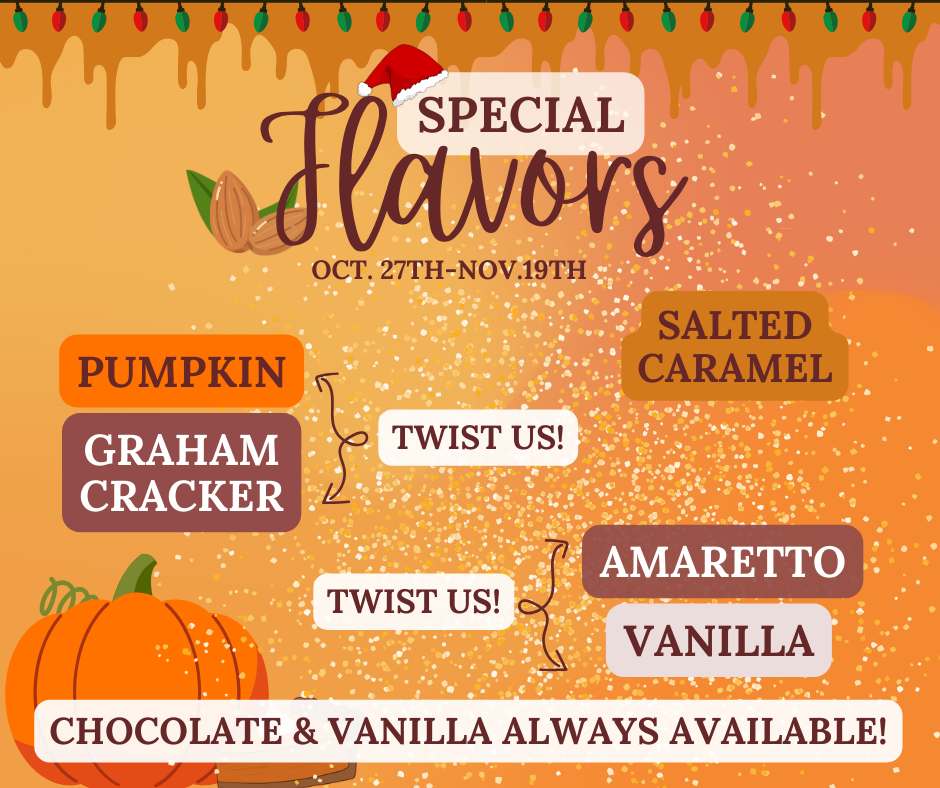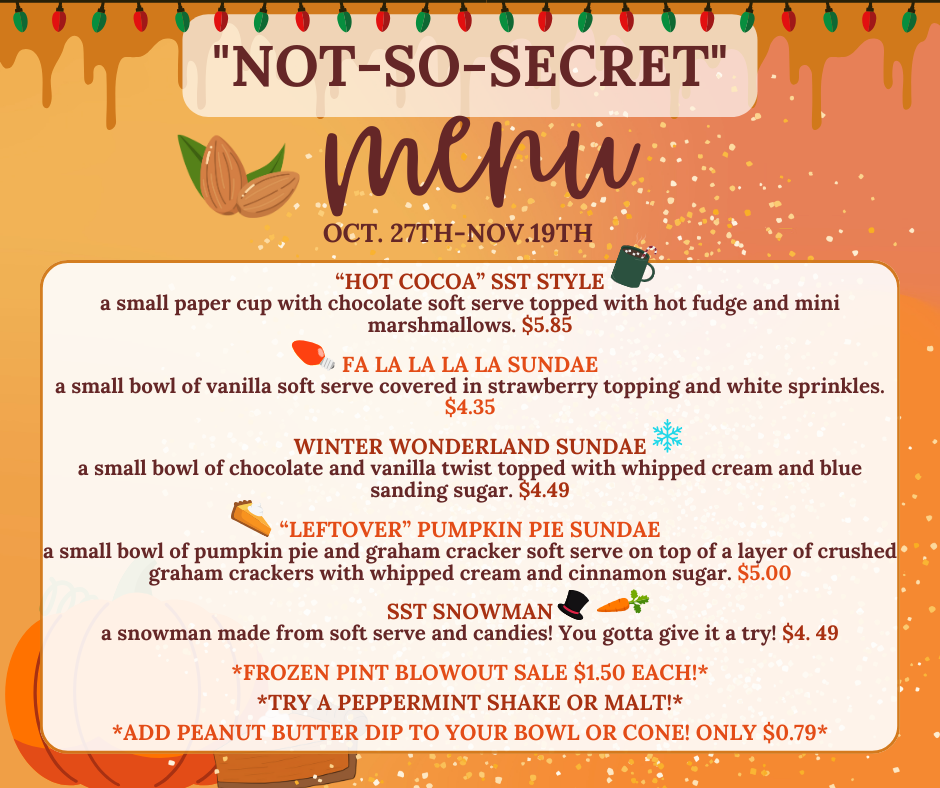 Delicious Soft Serve and a WHOLE lot more.
SOFT SERVE
cones & bowls
cake and waffle cones available
mix-ups
includes ANY  one topping or sauce
select more at additional cost
shakes & malts
choose from list of sauces and toppings listed below
Toppings
sauces
butterscotch, marshmallow, caramel, peanut butter, chocolate, raspberry, hot fudge, chocolate cone dip
$0.79
standard topping
banana, gummy worms, cherry, mini marshmallows,  cinnamon toast crunch, nerds, cocoa pebbles, peanuts, coconut flakes, pineapple, cookies & crème, strawberry, fruity pebbles, twinkle nut crunch, graham crackers, waffle cone pieces, gummy bears
$0.99
premium topping
brownie bites, maraschino cherries, butterfinger, pecans, chocolate chips, reese's cups, cookie dough, reese's pieces, heath, whipped cream, m & m's
$1.49
shaved ice
small $2.75 / medium $3.45 /large $3.95
vanilla soft serve mixed in – add $1
shaved ice flavors
blue raspberry lemon-lime cherry orange cotton candy strawberry grape watermelon
sugar free flavors
blue raspberry cherry grape lemon-lime
specialties
new! silly cup
a small bowl of vanilla soft serve with a  sugar cone hat, large googly eyes and a  cherry nose and rainbow sprinkles
$3.75
yummy gummy
your choice of soft serve with gummy  worms covered in crushed cookies & cream
$4.45
new! alien sundae
a small bowl of vanilla soft serve encircled in  chocolate sauce topped with whipped  cream, outer space candy and an alien  parachute toy!
$4.45
cookie sandwich
vanilla soft serve squished and frozen  between two chocolate chunk cookies
$3.85
fro-choco-nana
a frozen banana covered in chocolate dip – enjoy it plain or with a topping of your choice
$2.95
brownie sundae
warm brownie underneath a soft serve  flavor and a topping of your choice finished  with whipped cream, peanuts and a cherry
$6.95
banana split
a freshly sliced banana with your choice of 3 soft serve flavors and 3 toppings,
whipped cream, peanuts, and a cherry
$7.75
soda float
a medium cup of vanilla soft serve with a  can of soda of your choice
$4.95
*specialties by size*
small $4.95 / medium $5.85 / large $6.55
reese's explosion
our most popular sundae with hot fudge, peanut butter sauce, Reese's peanut butter  cups, whipped cream and peanuts
turtle sundae
always a favorite with hot fudge, whipped  cream, pecans and caramel drizzle
inside-out drumstick
soft serve with crushed waffle cone, hot  fudge, peanuts and a sugar cone on top!
pineapple whip
pure pineapple juice poured over vanilla soft  serve with pineapple topping
sundae your way!
your choice of soft serve, one topping or  sauce, whipped cream peanuts and a cherry
new!
cookies extreme sundae
soft serve with cookies & cream topping, hot  fudge, whipped cream, chocolate sprinkles  and 2 delicious cookies
sandwiches & snacks
giant soft pretzel w/cheese
$3.85
Meal Combo
add on to any sandwich purchase (includes a cookie or brownie with potato chips and a soda or water)
$3.25
FYI also...
frozen pints
flavor availability varies
$3.50 each or 2 for $6
puppy cup
free on weekends!
$0.89